About Us
Meet our Staff:
In a world of hectic schedules where stress levels are on the rise, we invite you to experience Spa Bellezza. Every service has been designed to encourage well-being, restore calm, rejuvenate your body and nurture your spirit. We hope to meet and exceed your expectations.
"Spa Bellezza's Concept"…We invite you to step into a peaceful, relaxing and inspiring spa experience. Our goal is to integrate the mind, body and spirit by harmoniously blending outward health with inner tranquility.
Our Gurantee To You:
Highest quality massages,  facials, body treatments, nail and  foot care, waxing services using the purest professional  products with a highly educated staff in an atmosphere of casual elegance.
Grounded in Ayurvedic healing traditions, we bring the clinical advances of science to bear on soul-based care. It's a  balance of high-tech and high-touch to treat the whole person skin deep and deeper.
Persue our Services menu of therapeutic massage, spa body treatments, skin care, nail and foot care services.
You can purchase an Instant Gift Certificate or Contact Us for more information at 631.779.3773.
Wellness Packages:  You may prefer to prepay for 5 Spa treatments of $75 or more and receive the 6th one free.  (These discounts can not be combined with any other specials or discounts and are to be used one per person as part of our Wellness Package to better health.)
Referral Rewards!!
We reward our loyal customers who promote our services. Bring us new clients and we will give you the rewards…
Re-booking Discounts ~We offer our clients $5 in reward points on all spa services of $75 or more for re-booking within one month and $10 within two weeks at the end of your spa treatment.
(Re-booking discounts may not be combined with any other promotion or spa special.)
Voted Best Day Spa 2015 and 2016

http://www.danspapers.com/2015/10/north-fork-wellness-beauty-dans-best-of-the-best-2015-winners/
Voted Best Manicurist/Pedicurist 2015 and 2016

http://www.danspapers.com/2015/10/south-fork-wellness-beauty-dans-best-of-the-best-2015-winners/
Featured on News12

www.News12.com/EastEnd (East End: Homemade Soy Candles)
http://longisland.news12.com/features/the-east-end (East End full Show for 4/2/16)
Featured in the NorthForker,
The Suffolk Times Paper
Photo courtesy of Monique Singh-Roy of the Northforker, Suffolk Times Paper 3/31/16
http://northforker.com/2016/03/29/natural-north-fork-skincare-products-riverhead-shelter-island/
Featured in Borrowed and Blue Wedding

Link to full gallery: http://dearstacey.pass.us/bridesbrunchandbubbly
Photo's by Dear Stacey Wedding Photography  dearstacey.com
Credits go to:
Make-up Artistry –  Spa Bellezza | ig: @spabellezza
Coordination and Design: L.Marie Events | Ig: @l.marieevents Floral Design: Flowers by Liz | Ig: Insta: @flowers_by_liz_sayville_ny
Location: Brecknock Hall | ig: @brecknockhall
Furniture rental: Party Rental LTD. | ig @partyrentalltd
Stationery – Whimsy B. Paperie | ig: @whimsybpaperie
Hair Design- Facesmith NYC | ig: @facesmithnyc
Hair Accessories – Ashleigh Malangone | ig: ashleighmalangoneweddings
Sweets - JLB Patisserie | ig @jlbpatisserie
Video – Godfather Films | ig: @godfatherfilms
Photographer: Dear Stacey | ig @dearstaceyweddingphotography
Spa Bellezza is a proud member of:
American Massage Therapy Association
North Fork and South Fork Wedding.com
BOSS Lady Club
ELLIE
North Fork Chamber of Commerce
Spa Bellezza is an active sponsor of:
American Breast Cancer Foundation
Local Schools PTA/PTO/SEPTA
Chronic Pain Support Group
Autoimmune Awareness and Education Group
Employment Opportunities:
Spa Bellezza is an especially fast-growing day spa.  Employment opportunities are numerous at Spa Bellezza.  We are always accepting applications for many positions. 
Very strict service standards for all Team Members and excellent training in all spa services ensure top-level spa service. In some instances, training may include specialized instruction from our product suppliers on their signature treatments and product lines. Opportunities for friendly, outgoing and service-minded professionals may include: 
Aesthetician • Massage Therapist • Nail Technician • Make-up Artist •  Spa Attendant •  Spa Receptionist •  Nutritionist • Health Coach •  Acupuncturist
Please stop by the Spa for an application.
Become a Motives beauty advisor at Spa Bellezza
Launch your beauty business as a Beauty Advisor
Let's talk business, passion, flexibility and fabulous cash rewards. We think life is too short not to have all of that go together. Launch your own social selling business as a Motives Beauty Advisor and create the success you deserve. Our empowered community of entrepreneurs is ready to cheer you on every step of the way.  Contact Spa Bellezza today to find out more.
Pro Artist Program

Motives Pro Artist Program is for makeup artists, aestheticians, cosmetologists, hairstylists, fashion stylists, nail technicians, costume designers, models, on-air talent/performers and photographers. The Motives Pro Artist Program combines your skills with the Motives cosmetics and It's skincare lines—offering innovative, customized and award-winning products to start you on the path to financial freedom.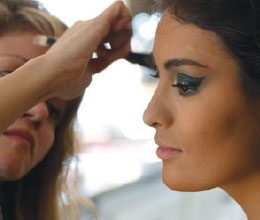 How to Enroll
To enroll, simply pick up a Motives Pro Artist Membership Form at Spa Bellezza, fill it out and send it in along with a copy of your photo identification, and examples of your work to the address listed on the application. It's that simple! Within a few weeks, you will receive a "getting started" e-mail, which will explain how to pay your annual subscription fee and instructions letting you know how to activate your very own Motives website. Our ongoing commitment is providing you with the products, information and service you need to succeed. Membership is renewed on an annual basis.
Member-Exclusive Benefits
Purchase products at reduced prices and earn up to 40 percent retail profit on sales
Exclusive artist promotion on motivescosmetics.com
New customer referrals
Personal motivescosmetics.com website where customers can order products from you 24/7
Customer Referrals & Retention Program where your customers earn:

2 percent Cashback on motivescosmetics.com orders
½ percent Cashback on referred friends' orders on motivescosmetics.com
 ***************************************************************************************************